How to Plant Native Grasses with a No-till Seed Drill Part Two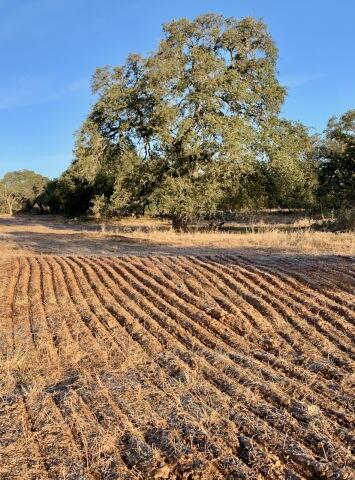 Note: For more background, read Part 1 in previous post: "How Soils Affect Native Grasses" 9/12/2020).
After two years of planning and waiting for the right season, the day finally arrived to plant our native grass and forb seed. We had received a grant in 2018 from the Hill Country Headwaters Conservation Initiative to help cover the cost of seed and a tractor operator. Along with the reimbursement program, we were fortunate to have been offered the use of Texas Parks and Wildlife's (TPWD) no-till seed drill. Different districts in TPWD are sometimes able to arrange to provide their seed drill on a limited basis when the equipment is not being used in state wildlife management areas and parks. By coordinating with our local District 4 Leader Mike Miller, we were got on the TPWD calendar and received valuable guidance on how to operate this very special piece of equipment.
I want to emphasize what an extraordinary offer this was, especially for small landowners like us. Dean Marquart, the Technical Guidance Biologist for District 3, drove 4 hours to bring the seed drill to us, before delivering it a few days later to the Ciblolo Nature Center in Boerne. Dean is the person who sets up the drill, and carefully calibrates it so that both chaffy and "slick" seed is evenly sown. Several other young biologists from other parts of the district were invited to join us for a seed drill sowing training day, so we had plenty of support and assistance that made this day successful.
We had deferred planting in 2019 because Jack and I realized that we needed more time to prepare the area (over 8.5 acres). Abundant winter rains last year yielded a bumper crop of winter weeds and cool season introduced grasses (again, see previous post for more description.) In contrast, the fall of 2020 launched a strong La Nina weather pattern, which resulted in dry and unusually warm weather after September. Typically this is very concerning, but for this project, it meant that there would be less competition for newly sprouting warm season grasses next spring – if we get rain then. Fortunately, we received ¾" of rain about 5 days ahead of sowing. This allowed the seeder to pack in the seed into still moist ground.
What is a no-till drill? It's a planter attachment that inserts the seed into the ground with minimal soil disturbance. Soil disturbance by feral hogs, previous grazers, and erosion in our area usually leads to invasion of undesirable species such as KR bluestem, sandburs, and weeds.
The attachment includes two to three seed bins (depending on the model) placed above a row of cutter wheels or openers that slice a narrow trench or slot into the soil. Next, the tube-like seed drill places the seed in the trench at the proper depth (average ½"). Planting native grass seed too deeply is a common cause of germination failure. A row of packer wheels follows the seed drill to press the seed into the soil for good soil to seed contact. The particular seed drill we used had two bins – one for fluffy or chaffy seed like little bluestem, Arizona cottontop, and sideoats grama. The other bin is for heavier "slick seed" like Plains bristlegrass, sand dropseed, and forbs like partridge pea and native sunflower. The seed weight of each species determines the sowing rate and your NRCS agent or TPWD biologist can offer guidance on this. Over all rates can vary between 4 and 11 or more pounds per acre, but because native grass seed is expensive, we aimed for around 6 pounds per acre, at a cost of $116/acre. Insert link to video
The terms of the grant required that we include a minimum of 9 grasses and 5 forbs in our mix. This of course required a custom mix designed specifically for our soils and location. We had learned through experience that a carefully constructed custom seed list was the only way to get successful germination. Here are the steps I used to develop my list:
Noticing over time which native grasses seemed to thrive on our property, if only in isolated patches, on our property, and where those grasses were found.
Recording what grass seed did not thrive after we planted it.
Asking for help from experienced land managers and agencies.
Studying what was known about the historical landscape components in our region from pre-European settlement times. This provides a background of what the site might have looked like, though we knew we could not re-create those same conditions.
After preparing my seed "wish list", I searched for vendors who could provide it, and incorporate as many local ecotypes that were commercially available at the time of purchase. After interviewing several seed vendors, I found Mr. Barry Coker at Bamert Seed to be very helpful in developing our custom seed mix for our project.
Here is what our list included: for "slick": seed:
1. Plains bristlegrass (Setaria vulpiseta)
2. Purple prairie clover "Kaneb" (Dalea purpurea)
3. Sand dropseed (Sporobolus cryptandrus)
4. Green sprangletop (Leptochloa dubia)
5. Illinois bundleflower "Sabine" (Desmanthus illinoensis)
6. Sand lovegrass "Bend" (Eragrostis tichodes)
7. Partridge pea 'Lark' (Chamaechrista fasciculata)
8. Awnless bush sunflower (Simsa calva)
9. Native sunflower (Helianthus annuus)
For chaffy or fluffy seed:
1. Arizona cottontop (Digitaria californica)
2. Little bluestem "OK Select" (Schizachyrium scoparium)
3. Little bluestem "Cimmarron" (Schizachyrium scoparium)
4. Sideoats grama "El Reno" (Bouteloua curtipenedula)
5. Sideoats grama "Haskell" (Bouteloua curtipendula)
6. Hooded windmill grass "Burnet" (Chloris cucullata)
Note that the names in quotes are selections of certain ecotypes judged to have superior qualities or performance. I chose two types of sideoats grama and little bluestem as a way of "splitting the difference" in hopes of having at least one established. You will also notice a mix of early successional or "placeholder" species like green sprangletop and sand dropseed, along with mid-successional species like sideoats grama and plains bristlegrass, and finally some late successional or what I call "aspirational" species like little bluestem and sand lovegrass. I have learned that the most successful seed mixes include 8-10 species, of varied successional types may more quickly fill bare ground and protect the space for later-appearing grasses. I had wanted to try yellow Indian grass in this area, but in the end I decided that the soils in these fields would not likely support it. Sand lovegrass is a long shot too, but I was willing to risk it to find out what would happen.
Planting day turned windy and raw. Our group offloaded the equipment and took their time to carefully calibrate the delivery rate and depth of the seed they had loaded into the drill. Then T.C., our experienced tractor driver, slowly and steadily roamed and circled over the rough rangeland we had worked hard to clear of stumps, boulders and cactus. It was far different from the geometric fields he typically plows, but sitting high in the cab, listening to the radio, drinking energy drinks and snacking on CornNuts, TC seemed unfazed. By sundown, he was finished.
It was amazing.
The spring will tell us whether we will have beginner's luck or not. If the weather is dry, at least some seed will wait in the ground, less vulnerable to harvester ant and bird predation, in areas where the seedbank had been depleted. At this point, we have added some of the missing seed. Now the rest is up to Mother Nature.