Future Forest Project: 2020 Update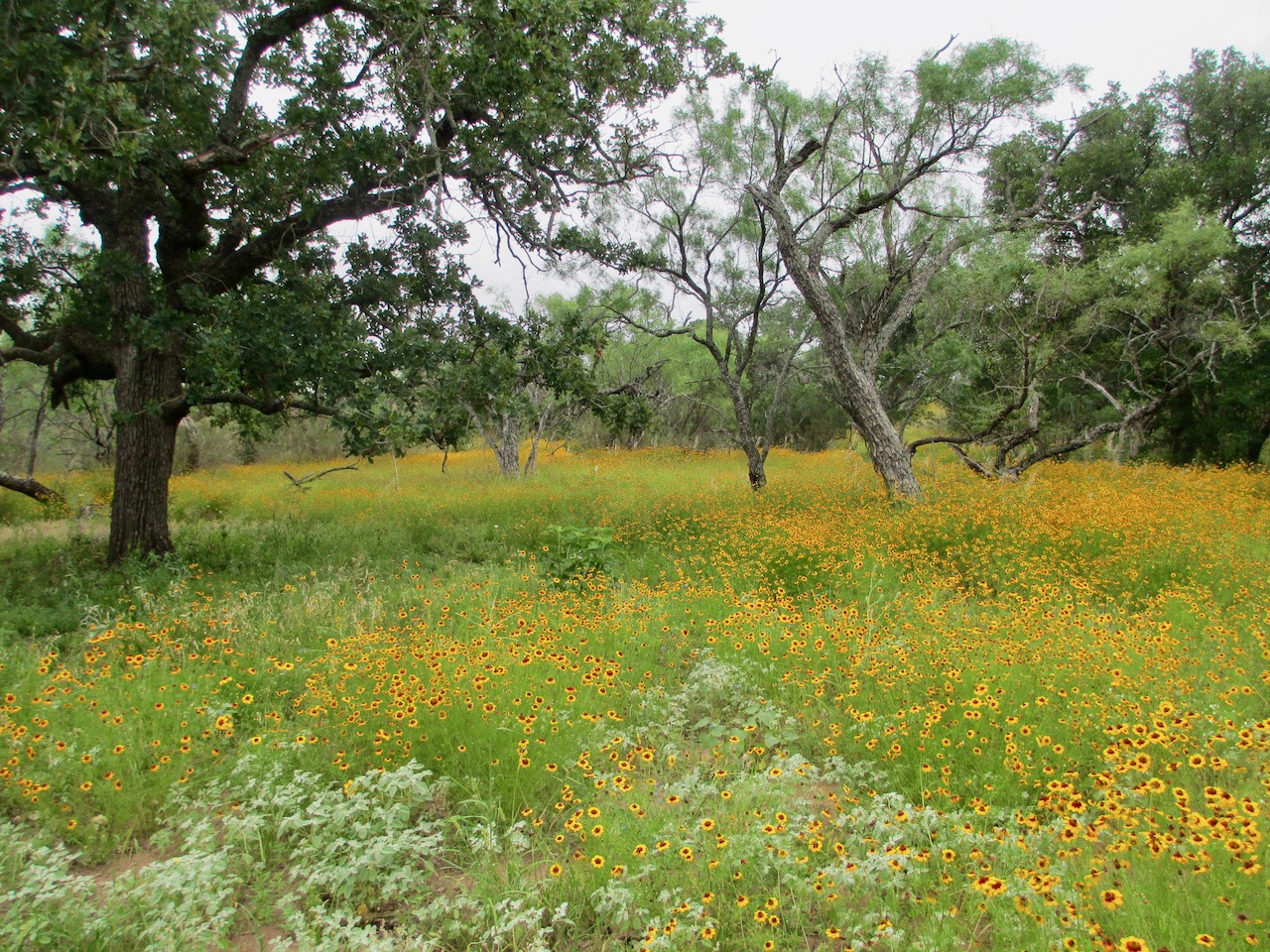 It's been just over a year since I posted a report on a brush-clearing project (see Future Forest Part 3 and two previous posts in 2019 ) we began started in the summer of 2018. Although the area is still in the early stages of the recovery process, we are beginning to see some positive changes such as good germination in certain areas where we planted native grass seed, new growth on young trees uncovered during brush removal, and more diversity of plant species with each season. What were we aiming for? The NRCS website tells us that our place was historically an open savannah characterized by expanses of grasses interspersed with scattered mottes dominated by mature oak trees. We did not realize how many mature oaks, pecans, hackberries, elms, and chittamwood trees we had in this area until we opened it up through selective clearing. High numbers of re-sprouting woody species have played an major role in driving sites like ours towards a shrubland state, which describes the inpenetrable thicket of whitebrush that we confronted at the beginning of the project.
To recap, first we began in the summer of 2018 by spraying dense thickets of prickly pear and tasajillo that had spread throughout with a 1% solution of PasturGardHL. The aim was to knock the cactus back a bit so that equipment wouldn't spread the pads and branches around. Heavy rains and flooding began in October 2018 and continued through early December providing good conditions in January when our contractor arrived with his skid steer and rock rake to pull up the brush. Although we had abundant wildflowers, springtime 2019 rainfall was scant and erratic, and pretty much stopped altogether by late June (wildflowers were widespread because there had been a lot of grass die-off during the previous 2 years, leaving more bare ground for weeds and wildflowers to germinate). Despite the lack of intermittent showers, we were able to get some decent germination of the grasses we planted in pocket areas that had some shade and deeper soils. Soils in this zone are classified as "Fieldcreeek" and are derived from ancient alluvium deposits from Marschall Creek, which flows below the bluff on the southeastern border. Fieldcreek bottom land soils dominate our property, following along the creek. With 2% organic content, it is the most arable and forgiving of our soils.
We had planted a custom seed mix of little bluestem, sideoats grama, green sprangletop, sand lovegrass, sand dropseed, Blackwell switch grass, plains bristlegrass, and inland sea oats. By June 2020, some areas were dense with the grasses we planted, and recruitment of nearby Canadian wildrye, Texas winter grass, Scribner's rosette grass, and others starting to fill in as well. In February 2019, I transplanted about 20 clumps of little bluestem dug from a near by roadside and planted them beneath a big post oak that had been cleared of brush. Survival rates were about 60%, which was pretty decent. In this same location we had good germination of sand lovegrass, which managed to set seed the first season. By spring 2020, plains bristlegrass began to show up and also set seed. Not all grasses were good, however. Wet winters in 2019 and 2020 nurtured a bumper crop of rescue grass and perennial rye – both prolific introduced cool season species that took over bare areas once covered with brush. These grasses do provide biomass and cover, but they also can suppress germination and growth of warm season grasses.
In February 2020, we brought out our experienced team of workers to go back through and grub out re-growing white brush or cut it back and treat the stumps with triclorpyr. After 2 and a half days, the guys generated huge piles of branches, which we then burned and later sowed with some seed left over from 2019. From the start, we recognized that we would need plan for two big project phases: the initial work with the skid steer, and some hand work to follow up. I expect it will be a 5-7 year project, with each subsequent year requiring less intensive and expensive effort.
In late March this year, we finally got some good spring rains and more grasses began to appear and eventually set seed. With nearly 100 species and counting, these woodlands now are on their way to becoming the most diverse replica of an oak-savannah habitat we have on our place. We will never be able to re-create a true diverse savannah, but I am beginning to see the semblance of what one might have looked like. For now, though, all this hard work has provided a new area for exploring and discovery, with new species appearing each season. The question remains as to whether these grasses and openness will endure. We will be hand-clearing re-sprouting white brush for years to come, but the time is approaching when Jack and I will no longer be able to work as we have done. Fires are necessary to maintain savannah communities. That may be a tactic we turn to when we can no longer lift a pick.
Lessons Learned:
Brush control is not a one-off activity. To achieve even a small measure of enduring change, work will have to continue at least 3-5 years until reasonable stability is reached, and thereafter regular maintenance will hopefully be sufficient.
Soils really make a difference in native grass germination. In this area, the soils had more water retention and organic matter when compared to other areas where we have had less success getting grass to survive. There are also native grasses already present that may migrate in.
Late January-early February seems to be the best time for sowing native grass seed at our place.
Custom seed mixes again proved to be worth the trouble to prepare.
This work is expensive to undertake, averaging about $500/acre. We invest a certain amount iof money for conservation management on our place each year. In this case, the work meant we had access to an area of our property that was inaccessible before, and it's hard to be a dollar value on that.