What I Learned from my TPWD Biologist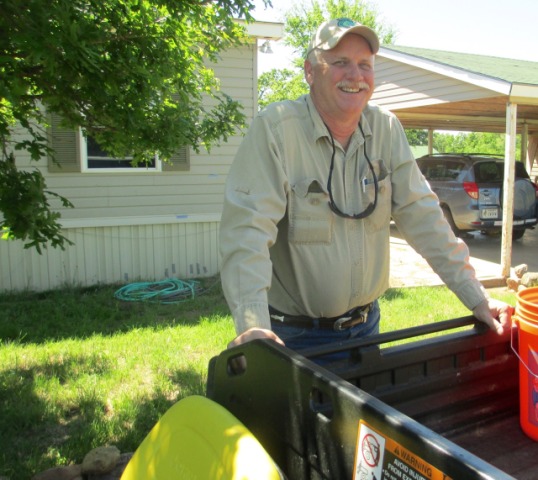 Like many other new landowners, in the early years of owning our place in SW Llano County, I eagerly attended every workshop, field day and webinar in the region to learn as much as possible. As we began the great adventure of restoring our land, most of these educational experiences introduced me to the vocabulary of land management techniques and strategies, and also made me aware of the biases and expertise of the different sponsoring agencies. Yet the most valuable outcome of those first tutorials was my introduction to Dale Schmidt, my local Texas Parks and Wildlife biologist.
During one of the first workshops I attended in Junction, Texas, I listened to Gilbert Guzman, another TPWD wildlife biologist, describe the Landowner Incentive Program (LIP). I wondered if we could get in on this cost-sharing opportunity to help with some major projects on our land. "You need to call Dale Schmidt first", advised Gilbert, and so I did.
It wasn't long before Dale came out to our place and we were amicably sitting on the porch, talking about LIP. I kept waiting for him to tell me, "You need to do this or that", but that's not how it went. There was a pause in our conversation, and Dale turned to me and said, "Well, what is it that you want to do?" We got a good laugh out of that later as we got to know each other, but this first encounter demonstrates that TPWD biologists in general don't have an agenda or to-do list for landowners. Instead, they are there to assist people in reaching their land management goals in the most scientifically sound and practical way.
Before we bought our property, I did not realize that the Texas Park and Wildlife Department provided consultation with wildlife biologists as a free service to landowners. These dedicated professionals routinely make "house calls" to offer guidance and support. As noted on the TPWD website, biologists are available to collaborate with landowners to "slow or reverse the decline in quantity of the State's wildlife habitat and improve the quality of the remaining habitat… (while) preventing waste or depletion of the resource, and providing aesthetic and economic benefits to the landowner."
Over the years, many biologists routinely devoted hours to writing individual1-D-1 Wildlife Management Plans (frequently though erroneously called "Wildlife Exemption Plans) for landowners to submit to their local county tax assessor. Currently, landowners are given more online and workshop resources to get started on their own plan, though biologists are still available for advice and suggestions.
In addition to assisting landowners with a wildlife management plan and working with Wildlife Management Associations, most biologists toil under an enormous workload that includes issuing tags through the Managed Lands Deer Program, which involves offering advice on harvest goals, and qualifiying hunters for an expanded hunting season. Recently their job has been made more difficult still by the outbreak of chronic wasting disease that has spread from deer breeding operations. To monitor the disease, biologists must log long hours tracking sick game and taking samples. There is a lot more to this, but since I am not a hunter I will just say it seems like a lot of hot, grisly work that is no fun for all involved. Still, it's part of the job of a biologist, and these men and women of the state's park department follow through because they are professionals, and they are committed to taking care of the land and the creatures who call it home.
Unfortunately, the Texas State Legislature does not feel compelled to likewise support our Parks and Wildlife Department. In this year's legislative session, 36 million dollars was diverted from the sporting goods tax that was dedicated in 2015 to support the department. Instead, the legislature decided to siphon this money off for other uses instead of using some of the Rainy Day fund or, in my opinion, pulling their socks up and developing a reformed state budget that honestly reflects the needs and changing economy of our growing state for today, and for the future. The result is TPWD has more than $580 million in deferred maintenance of the facilities at most state parks. This is happening at a time when park visitation is up by 500,000, from last year's 9 million people. That doesn't sound very smart to me. Park tourism is a big economic driver, particularly in rural areas. They are also important resources for city-dwelling folks seeking an opportunity to enjoy the natural beauty of Texas, without running the parks into the ground, which is what it seems to me the Legislature is trying to do to our hard-working Parks department. If you are concerned about the legislature's neglectful "death by a thousand cuts" treatment of TPWD, please let your representative or state senator hear from you.
When you have an opportunity to meet with your local biologist, please thank them for what they do. You will be fortunate to know someone who is passionate about the natural world, and who is ready to help you as well. My friend Dale Schmidt is retiring at the end of August, so let me take a moment here and thank him for his guidance and support. We were lucky to have him as our advocate and advisor. Best wishes, Dale, for a happy and healthy "next chapter" of your life, and thank you for all you have done for us, and for the natural resources of our state.