A Bumper Crop of Bluebells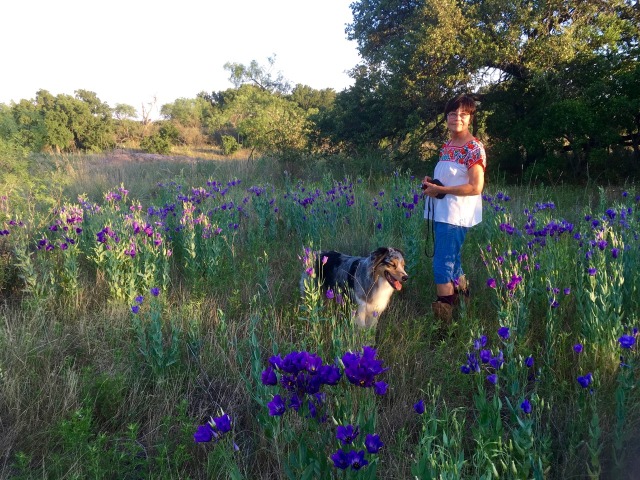 As spring in central Texas winds down in June, we typically enjoy the season's last hurrah: fields filled with extravagant displays of plains coreopsis (Coreopsis tinctoria). I wish I had a better understanding of the reason for the particular sequence of wildflower colors, beginning in late February with pale lavenders, blues, whites, then reds, and finally bright yellow and yellow orange – strong colors that won't bleach out as sunlight gains strength. It's likely this pattern is tied to what it takes to attract ever-emerging suites of pollinators, when flowers recede as warm season grasses and forbs begin to grow tall. On our place in SW Llano County, Plains coreopsis has always been that last eye-popping carpet of color before the furnace blast of summer's heat takes over.
This year is different, however. The coreopsis have been few in number and spotty in location. The delicate pinnately compound stems and yellow flowers with rich, carmine colored centers of this western annual are very distinct, but this year did not provide the mysterious yet critical combination of conditions of soil temperatures and moisture that result in the massive displays of this species that we are used to. Yes, some grasses have filled in those areas where the coreopsis was most prolific, but not to the degree that the flowers would have been smothered out.
However, those distinct combinations of conditions that prevented the coreopsis from taking center stage resulted somehow in an extraordinary display of Texas bluebells (Eustoma exaltatum ssp. Russelianum).
We have always been amazed by the scattered stands of single plants or small groups of bluebells we have noticed on our property. Bluebells begin to display their spectacular blooms just as everything else is beginning to dry up. Until this year, we have never seen them in such big groups, and in new locations. Previously, we would most often find bluebells in low spots and near seeps where there was some clay in the soil. Even when that clay becomes cracked and dry, the bluebells seem untouched by heat and drought, even where I have seen them in old pastures on the Blackland Prairie.
Texas bluebells are New World annuals or sometimes short-lived perennials that can grow up to 3 feet tall. They are associated with grasslands and disturbed soil where there is less competition. The leaves are slightly bluish-green with a waxy coat, which makes them appear succulent-like. The large funnel-like flowers are typically a deep violet color, but can also be white, pink, or colors in between. Because of these attributes, Texas bluebells have been brought into the horticultural trade and hybridized selections are available as cut flowers and garden selections. Some accounts claim that Texas bluebells are relatively scarce because they have been over-
picked in the wild. More likely is that development and habitat fragmentation have dispersed this species further in to more remote niches.
I've been discouraged lately by what seems like a slower recovery of the grasses we have tried to plant, but this year's yin and yang of flowers, in contrast against our expectations and assumptions, persuade me that while we might set things in motion to hasten recovery, we are not ultimately in charge. Now I am thinking that it may still be possible for some of that seed I tossed out this year, last and earlier may lie in wait for those ineffable and hard to fully explain conditions that will favor their growth. Each year something different is on prominent display. All we can do is to keep paying attention, and to celebrate phenomena like bunches of Texas bluebells appearing where we did not plant them, and where they may not be seen again.