The Spaces in Between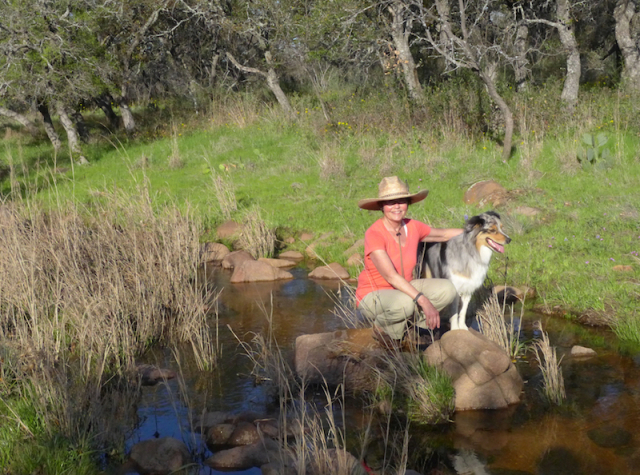 It was the first week of March, and I was sitting on the back porch at the end of the day, admiring the intricate pattern of bare branches on the cedar elm further out in the yard. Everywhere the quickening pulse of spring was evident, yet the branches of the cedar elm with their slender fingered tips were still leafless. The next evening, I began to detect swelling buds glistening along the stems like so many tiny Christmas twinkling lights. A short three days later the tree had unfurled every leaf, and was robed in an intense fresh chartreuse green, up lit by green light so bright it seemed polarized from reflection of the fresh annual grasses below.
In a minute's time, spring had arrived.
These signs of "right-before-spring", like those time-lapse photographs, remind me of what the ancient yogis used to say about the pause that comes between the inhaling breath and the exhalation. It was their belief that enlightenment resided during the brief interval at the top of the breath, the in between space between in and out, past and future. I don't know if springtime makes me more enlightened, but those first few weeks when it seems that something changes or appears every 15 minutes, sure does make me want to pay careful attention. I don't want to miss a thing.
The winter of 2015-16 sure has been weird. We were in pretty good shape after rains finally returned in October, but the "wetter and cooler" winter predicted all around for our supposedly "Super El Nino Year" never materialized. In fact, January and February were dry and 4-5 degrees warmer than "normal", surely setting us up for what is predicted to be one of the warmest years on record. By late February the wildflowers and other forbs began to look stressed and puny and I thought, "Here we go again: hopes dashed for spring flowers." But a timely generous rain in March revived everything, and now our job is to enjoy it for as long as it lasts.
We have wildflowers, but I wonder if the "pause" in winter rainfall combined with unusually warm temperatures suppressed the forbs, while at the same time favoring cool season grasses, like Texas winter grass as well as annuals like brome and rescue grass. This spring the bumper crop of little barley and six weeks grass, seem to leave many flowers hidden until consistent warm temperatures switch the tables again.
2015 was a lousy year for growing grass. We had good winter rains, but cooler than normal temperatures delayed the emergence of the warm season grasses, and by the time they germinated, the rains stopped completely for over 100 days. Few grasses set seed in either early summer or fall due to dryness. This year, it makes me happy just to see so much photosynthesizing going on.
So far, I have decent germination of grasses in the burn pile sites from last year's LIP grant. The strongest germination results are observed in those sites where I sowed right before or right after the big rain. My guess is that the hard rain (though the site was protected by a cover of branches) drove the seed in the ground further and quickly started germination, which made the seed less available to ants and birds. I'm keeping fingers crossed that this year we get a little rain during the summer to keep those grass seedlings alive.
I went searching for the cactus clumps I treated late last April to see if there was any re-growth, and was pleased to note that almost all plants treated were thoroughly dead, but without any sign of a dead zone around them. I could not even locate the smaller 3-4-pad clumps- those had completely dried up and blown away. So at the top of the list for this year's projects are to continue to spray prickly pear where it is forming a solid carpet. ( see "Taking Another Stab at Prickly Pear or Cactus Removal").
If careful application of this new generation of less risky yet more effective herbicides to treat cactus continues to be successful, that will mean we will be released from the daunting task of grubbing the cactus up and then having to try to burn it somehow. Our long term goal will be that when a field has been thinned out of much of its cactus, I will find someone to bring a no-till seed drill here and plant grasses that way.
After seven years of erratic weather patterns, boom or bust rainfall, and combinations of rain and temperature as varied as the patterns inside a child's kaleidoscope, I am beginning to understand and accept that the Llano Uplift, where our property is, an arid rather than verdant landscape. Humans are hard wired somehow to prefer and be soothed by greenness, but yearning for lush greenness in our part of the world is a losing proposition. Instead, our area has an inherent resiliency that allows it to respond with extraordinary extravagance and profusion – if only briefly – when conditions line up right. I admit that these briefly intense green seasons serve to fuel our enthusiasm to continue restoration work, but I need to adjust my perception and expectation of the larger reality or I may miss Mother Nature making an unexpected rush to set blooms and seed when harsh conditions give way to a little rain and coolness.
A month ago, the sweet and pungent aroma of blooming agarita filled the air. Now the bushes are loaded with fruit. Feral bees swarm the tiny urn-shaped flowers of the persimmon, helping that plant set fruit for next fall. The dreaded cowbirds have come and but seem to be moving on, and the hummers are back. The Texas bluegrass and shining melic grasses are increasing and making flowers, and for now, the woods are full of singing birds. Here's to new beginnings.