Landowner Incentive Bulletin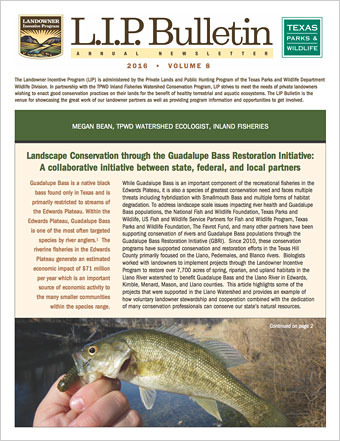 I am proud and honored to be in the 2016 L.I.P. Bulletin Annual Newsletter. They published my essay, The Mindful Conservationist, in this year's issue along with a very nice profile of me under the Landowner Spotlight section of the newsletter. The essay is an adaptation of an earlier article I wrote for The Society for Ecological Restoration, and if you have not already done so, I would love for you to take the time to read it. The newsletter laso has other good information from in it the Texas Parks and Wildlife Department,
The essay shares some lessons about restoration that we, as new landowners in Llano County, have learned over that past six years. In our efforts to help our land recover and improve, we have tried to combine science-based strategies with personal "place making" efforts that provide satisfaction in the short term, and fuel commitment over the long haul.
Link: http://tpwd.texas.gov/publications/pwdpubs/media/pwd_lf_w7000_1405_2016.pdf